Here at KCT we appreciated this article by Sara Schilling with the Tri-City Herald about New Year's Resolutions... we can't take credit for this article, but we all need to hear it. 
It's that time again, when holiday indulgence coupled with the approach of a new year have many people pledging to hit the gym.
Fitness facilities across the Tri-Cities see a spike in signups around Jan. 1.
While some gym-goers stick it out for the long haul, others eventually toss in their towels over the following days, weeks and months.
Motivation can be a tricky — and fleeting — thing. Here are some tips from local fitness experts on keeping at it:
Seek help from a professional
"A common mistake people make is being afraid to hire a trainer right away," said Adam Place, fitness consultant at Gold's Gym in Kennewick.
You wouldn't walk into an accounting office and expect to be a numbers whiz with no training, he said. It's the same story at the gym.
A trainer provides "the help and education you need to get to your goal," he said. "A trainer is going to walk you through that from Point A to Point B."
Ryan Vogt, fitness director at the Tri-City Court Club, agreed.
"If people are just getting into (working out), they need to know where they're starting from. Meet with a fitness professional and start with a solid foundation," he said.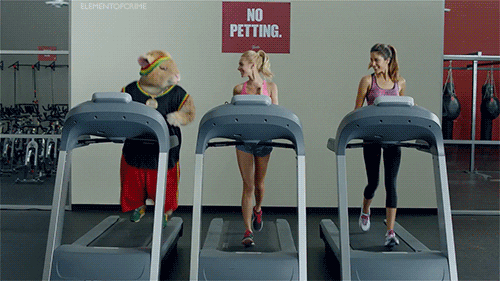 "Baby steps are lasting steps. I advise my clients to start where they are and do what will work for them," said Kelly Sherman of Columbia Basin Racquet Club and Provision Nutrition. "If you are not currently active and you begin with walking every day for 10 minutes, that is great. You've made a small change that you can be consistent with and expand upon. The same goes for nutrition. If you currently have a daily fast food habit, consider packing your lunch or snacks in the car to eat just one day a week. You'll save calories and once that becomes easy, you can try to do the same thing two days a week."
She also warned not to overdo it.
"Many times, we see people come in to the gym and overexert themselves only to find that they are so sore they cannot walk, and it keeps them from coming back or coming back consistently," she said. "Work your way up to exercising longer or more frequently; just be consistent in working toward that goal."
It's the same on the nutrition side, she said. "I find that people often make too many or too drastic changes that make it difficult to adhere to," Sherman said. "If you want to eat more veggies, for example, make sure you have a couple of great recipes or methods for preparing them so you don't waste your money and the veggies."
Vogt, from the Court Club, said people who dislike working out probably won't fall in love with it overnight. So, "it's about starting with the least amount possible to see change. Then, when they start coming to you and saying, 'I went to Zumba on Friday and loved it,' you know they're creating changes on their own," he said.
Workout with a friend or join a class
It can be motivating to have a workout partner or join a group fitness class or training program.
Most gyms offer various options, including Gold's, the Court Club and the Racquet Club.
With a friend or group class, "there's an accountability aspect. You feel that sense of, if I don't show up, someone might ask why I'm not there," said Place, from Gold's in Kennewick.
Focus on improved health, not necessarily weight loss
"You need to wrap (your motivation) around a true fitness goal, not a body image type thing," Vogt said. "It could be, I want to lose weight, but also complete the Cable Bridge Run. Or hike the Grand Canyon. Or run a half marathon. Or climb to the top of the rock wall."
That way, the scale isn't the only way to measure success, he said.
Sherman acknowledged that many New Year's resolutions revolve around weight loss. "If you find that no matter what you do you can't lose weight or keep it off, choose to focus on your health. Once you get your body system operating optimally, you may find that the weight comes off without having to focus on it," she said.
Seize bursts of motivation and dig deep
You don't need to wait for Jan. 1 or 2 to starting getting in shape.
"The best time to join the gym is the day you think about it. Use the motivation you have in the moment," Place said. "It isn't easy to get to whatever your goal is. It takes hard work. If you wait and procrastinate, typically what happens is you get in a worse situation, with more work ahead of you."
Vogt advised to do some reflection to determine your true reason for wanting to be healthier. Is it to live longer? To have more energy? To be able to hike Badger Mountain with the family?
"If you can tap into the real reason why you're making that visit to the gym, it's not going to matter that it's 15 degrees outside and you don't feel like going. It's important enough to accomplish that goal," he said.
"For me, it needs to be more than that weight loss. It's the why. And then you have a reason to put on your Fitbit or (other device) and go gang-busters."
All credit to Sara Schilling with the Tri-City Herald
Please reload